Categories:

Activities
A sustainable vacation in Stockholm
Publish date: 20 September 2023
Sustainability permeates almost everything in Stockholm. Here are some tips for your visit to one of Europe's greenest cities!
Stockholm is at the forefront when it comes to sustainability. Innovative solutions that take the climate and nature into consideration can be seen everywhere and have become a part of everyday life. From public transportation, and the city's attractions to the variety of boutiques, cafés, and restaurants offering locally sourced meals or sustainable clothes.
Transport and communications
If you've traveled to Stockholm via Arlanda Airport you have commuter trains, the Arlanda express train, and the Flygbussarna-shuttle buses to choose from as your most sustainable options. Arlanda is one of the world's most sustainable airports and the Flygbussarna-shuttles run on fossil-free fuels.
The most environmentally friendly way to get around Stockholm, besides walking, is by bike. It's easy too, with some 1,440 km (almost 900 miles) of bike trails crisscrossing the city and extending into the surrounding areas. You'll find dedicated bike trails, as well as combined cycling/walking paths. There are plenty of bike rental shops and guided bike tours, and in 2023 the City of Stockholm partnered with RideMovi for the maintenance of the city's own official eBikes (page in Swedish) which you'll find parked around the city. Find more info in our guide about bicycle rentals in Stockholm.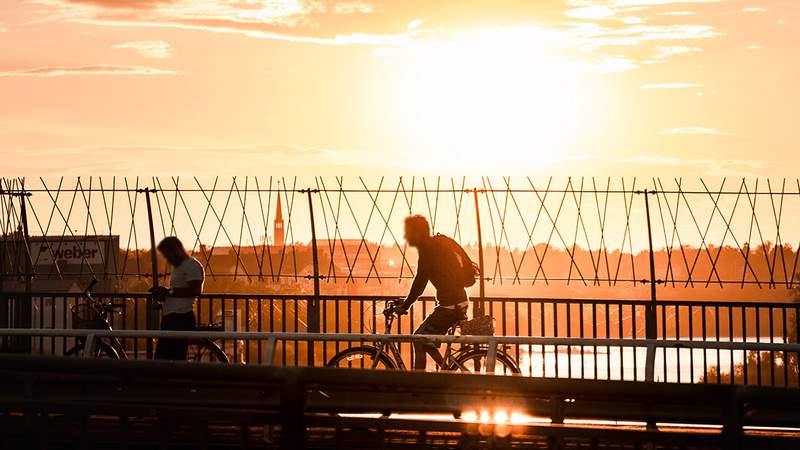 Visit Stockholm
Public transportation is another excellent way to explore Stockholm. Commuter trains, trams, and metro are powered by 100 % clean energy, and all SL buses run on fuel from renewable sources. You can also use the SL card or app to travel to the Stockholm archipelago with Waxholmbolaget's ferries between September and May. SL's commuter ferries run on 50% renewable energy since 2020, with the stated goal of being 100% fossil fuel-free in 2030.
In 2023 the electric unmanned MF Estelle started taking passengers from Söder Mälarstrand across Lake Mälaren to Kungsholmen. The electric commuter ferry M/S Movitz takes passengers from Solna Strand to Riddarholmen in Central Stockholm during the summer.
If you're in Stockholm by electric car or have rented one here, you can charge it for free in many of the City's garages and visitor parking lots. Read more info at Stockholm Parkering (page in Swedish) where you'll also find a map of all public charging stations. Many of Stockholm's taxi companies also work towards a sustainable future. Taxi Stockholm, for example, has a fleet of vehicles that's 95 % environmentally certified. Travelers wanting a certified car can ask for one while making their reservations.
Accommodations
The collective focus on protecting global resources is evident in Stockholm's hotels. Since 2020, 8 out of 10 have been certified as sustainable, and most others have a clear strategy on how to reach that goal. So if you're consciously choosing environmentally friendly accommodation you've got plenty of options. Here's a small sample, but you'll find more tips in our guide about sustainable hotels!
Hobo: Hobo is a creative boutique hotel situated at Brunkebergstorg, right in the heart of Stockholm. In the 1800s Brunkebergstorg was an exclusive marketplace with fashion shops, restaurants, and entertainment venues. Today, it's a place where modern design, urban greenery, and a neighborly local atmosphere meet. The hotel's playful interior was designed by Berlin-based Studio Aisslinger, in collaboration with leading local designers. For example design-duo Vår and tech company Teenage Engineering.
Nolla Cabin at Lidö Värdshus (page in Swedish): Nolla Cabin on Lidö in the Stockholm archipelago is ideal for anyone wanting to be close to nature, and maybe even have a role in taking care of it. The cabins are equipped with solar panels and are part of Lidö's "Zero Island"-project, which strives to reduce the island's climate impact. As a bonus, the entire island is a beautiful nature reserve, and the cabins have floor-to-ceiling windows offering a panoramic of the surrounding sea. Only open during the summer season.
Downtown Camper by Scandic: By taking both small and big measures hotel chain Scandic aims to be a leader in the field of sustainable hospitality. Activity Hotel Downtown Camper, for example, serves carbon-neutral meat in its restaurants, and the hotel is cleaned efficiently with eco-friendly detergents. Also, its showers have a small hourglass to keep guests from wasting unnecessary water.
Restaurants
Stockholm is both becoming a hub for food tech and enjoying a renaissance of green restaurants and cafés. Many restaurants take great care in choosing seasonal and locally sourced ingredients or take matters into their own hands by growing many of the menu's greens and herbs themselves. Others find new and inventive ways to reduce food waste and emissions to either become climate-neutral or climate-positive.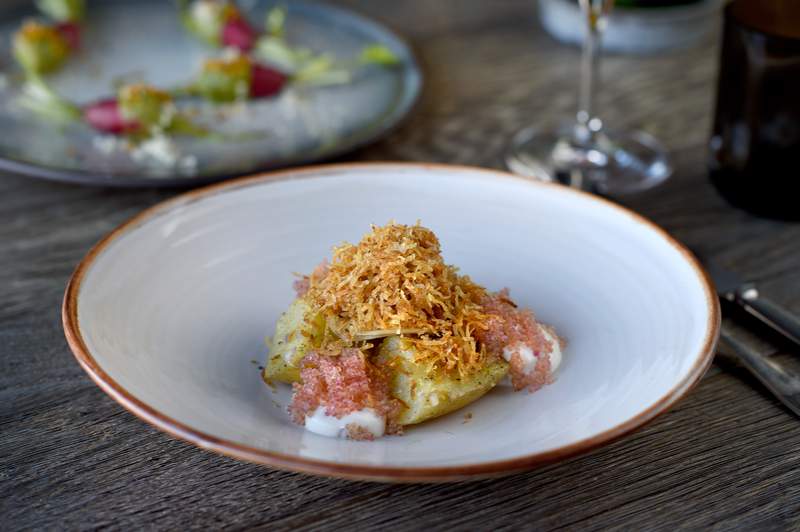 Anna Hållams
Here are a handful of suggestions, and you'll find more in our guide about sustainable eating in Stockholm!
Sopköket (page in Swedish): Sopköket profiles itself as a restaurant with minimal food waste and it prepares meals based on partly rescued and surplus ingredients from supermarkets and other partners. Leftover meals are redistributed to people in need. Its name, after all, translates quite literally to "The Garbage Kitchen".
Växthuset (page in Swedish): Located next to the beloved nightclub Trädgården, Växthuset offers vegan fine dining. A perfect place to start an evening of clubbing with a delicious, fresh meal prepared from seasonal ingredients. The restaurant aims to be as eco-friendly as possible, without impeding on quality or taste. Växthuset also serves artisanal and craft beverages, with a focus on natural wine and non-alcoholic drink experiences.
Emmer (page in Swedish): Emmer is located at Ulriksdals Värdshus in Solna, just a stone's throw away from downtown Stockholm. It's surrounded by forest, farmland, and the sea, offering uncomplicated meals from locally grown ingredients for a dining experience in tune with a sustainable future. Open April through October.
Rosendals Trädgård: Enjoy fresh salads, soups, sandwiches, and baked goods in the lush, green environment of Djurgården. Both a market garden and café, Rosendals Trädgård serves food based on organic, biodynamic ingredients. During the growing season, they use herbs and vegetables from their garden and the pastries are made in their bakery. The garden café is open from early spring to autumn but the greenhouse is open all year round.
Restaurangen - Fotografiska: The restaurant at Fotografiska (simply called "Restaurangen") has been lauded on numerous occasions for its sustainable kitchen. It was one of the first restaurants in Stockholm to receive a Green Star from Guide Michelin in 2020. The restaurant focuses mainly on plant-based food and works hard to reduce food waste.
Things to do
Nordiska Museet: Nordiska Museet in Stockholm is the most significant cultural history museum in Sweden. Its vast collection spans the last 500 years and includes clothes, fashion, textiles, folk art, photographs, furniture, jewelry, glass, and porcelain. The exhibition, "In the Arctic – While the Ice is Melting" depicts life for humans in a dramatic and changing landscape: the Arctic region. Interpreted and portrayed by the artistic design duo MUSEEA, the exhibition tells the story of the people living in the Arctic and man's constant struggle to adapt to climate change.
Tekniska Museet: Sweden's largest museum of technology and a favorite destination for young geniuses. Investigate and discover how everything works and is connected, and take an exciting journey that stretches from the early days of industrialism, through the present day and onwards towards grand visions of a sustainable future. Sustainability is a cornerstone not only at the museum but at its restaurant as well, Tekniska by Pontus. The dishes are chosen carefully and based on local produce, much of which comes from its own garden. The restaurant also visualizes how big of an impact on the environment every meal is by showing everything from electricity and water consumption to food waste.
Guided tour with the Green Trails: The Green Trails is an adventure excursion operator for day trips, outdoor guided tours, and adventures around Stockholm. During winter, they offer Nordic skating, cross-country skiing, and snowshoeing excursions. In summer, there are kayaking tours, sailing, and even moose safaris!
The Wooden Bike Tour: Experience Stockholm while using a quite unique kind of transportation: a hand-crafted wooden bicycle. The Wooden Bike Tour lasts two hours and takes you through the heart of Stockholm, to all the most important landmarks in the city.
Art in the subway: Stockholm's subway system is often called "The World's Longest Art Exhibition" - 110 kilometers long. Traveling by subway is like traveling through an exciting story that extends from the artistic pioneers of the 1950s to the art experiments of today.
Nature in Stockholm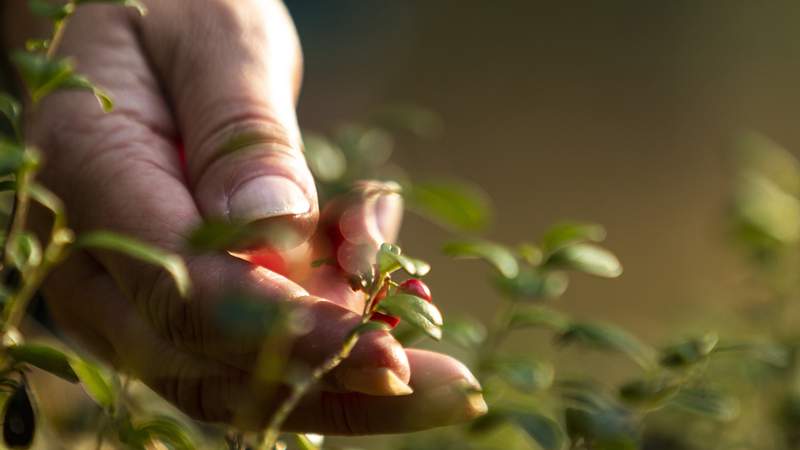 Henrik Trygg
Nature in and around Stockholm is held in high regard by most of its residents. After all, it's what we strive to preserve by taking measures for a more sustainable future. No matter where you are, you're never more than a short bike ride from a soothing green oasis or refreshing swim. There are many green areas and lots of ways to enjoy them!
Shopping
Either by finding new wardrobes for clothes that have been thrown out, or maintaining fair and sustainable production chains, many fashion stores and brands want to contribute to a more planet-friendly lifestyle. Read our guide on sustainable shopping for more tips.
Old Touch (page in Swedish): Old Touch has a large selection of vintage dresses, jewelry, hats, and accessories from the turn of the century right through to the 1960s. Any aficionado of 1920s fashion and the flapper era will feel right at home! You will find great dresses and accessories to purchase and outfits to rent for costume parties.
Asket: Transparency and sustainability are paramount to Asket's business philosophy. The brand offers classic designs in sustainable fabrics but also goes to great lengths to report its entire production chain; from the selection of factories and raw materials to shipping and labor costs, and customs duties. The point is to visualize the whole process, up to a jacket or shirt finding its way to your wardrobe. Asket's flagship store is located at Norrmalmstorg in Stockholm, and the brand also runs a recycling store (Asket The Restore) where old garments are repaired or repurposed into new creations.
Arkivet Second Hand: Arkivet is a second-hand store focusing on current trends. The clothes on offer are usually no older than two-three years. Primarily a women's wear boutique, you'll find cool accessories and shoes as well.
Vintage shopping in Stockholm: Second-hand and vintage have truly come into fashion. Stockholm has a great offering of vintage stores whether you're looking for clothes, records, books, or design objects. Besides second-hand chains, like Myrorna or Humana, several established fashion brands like Acne and Filippa K have opened vintage stores, selling past collections.
Weekend Markets & Flea Markets in Stockholm: Who knows, maybe your next favorite shirt or mug is to be found at an inconspicuous garage sale? Summer is the high season for flea market treasure hunters in Stockholm and there are several web pages listing current markets.
The Stockholm archipelago
Gålö: Gålö peninsula is situated in southern Stockholm and the best way to get there is by car or one of several public transportation busses from Haninge Station. Nearly the entire area is a protected nature reserve, with beautiful forest trails and views to enjoy. You'll also find the longest sandy beaches in Stockholm County. Gålö is also home to Sälstationen, where the Navy secretly trained seals to track out foreign submarines and mines during WWII. Today, visitors can enjoy a visit to the sauna, an overnight stay, and guided tours during summer.
Grinda: Grinda is a beautiful archipelago island, approximately a one-hour boat trip away from Stockholm by way of Vaxholm. The whole island is essentially a nature reserve with idyllic surroundings, lovely beaches, and typical archipelago nature.