Categories:

Activities
Introducing padel, Stockholm's fastest growing and trendiest sport
Publish date: 28 April 2021
Padel is the new golf, the new tennis, the new everything! As padel centres have managed to remain open during the pandemic, they are often jokingly referred to as adult daycare centres – a welcome escape for those working from home due to Covid.
Sweden's new national passion
Padel, a sport nobody in Sweden had heard of 3 years ago, has become the new national passion with an estimated 500,000 players nationwide, and growing every day. Even by Swedish standards, a nation known as early adopters, the explosion of this sport has been extreme.
The sport is best explained as tennis played inside a box (a glass-walled and caged structure), where the ball can also be played off the walls. This game scores just like tennis but is played using a flat padel rather than a racket with strings. As a video tells a thousand words, here is a clip of some experts in action to give you a better picture.
Courts are booked for an hour at a time, so unlike golf, there's always time to squeeze in a game. The only real drawback is that it's difficult to find an available court, and even more challenging to find a time that also suits three other people – your partner and opposition – as padel is usually played as a doubles sport. Padel centres operate on a pay-and-play basis which means membership of a club is not required.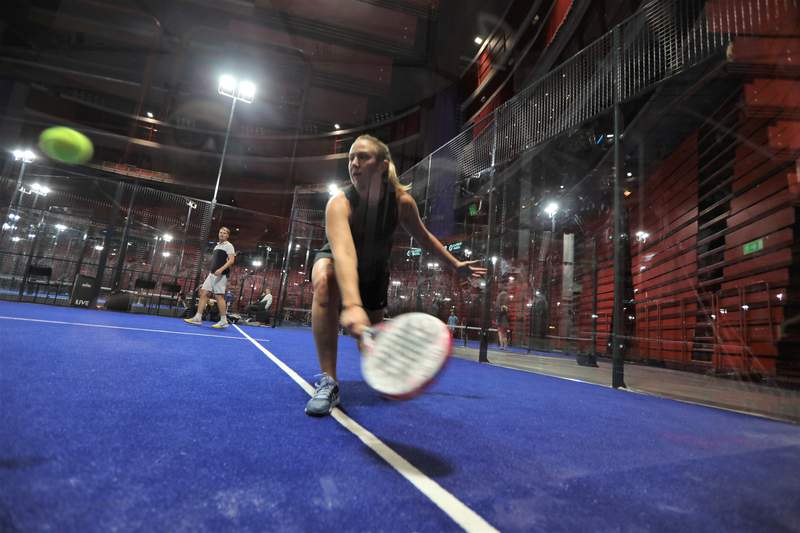 Globen Padel
Celebrity appeal & endorsement
Padel's incredible popularity was given a massive boost by the early involvement of Swedish A-listers such as Zlatan, Peter Forsberg and Måns Zelmerlow, who are all founding investors in Padel centres in Stockholm - a great investment as it turned out, as padel halls cannot be built fast enough to keep up with the demand and the money has been rolling in. No sooner has one new venture launched itself as "Sweden's biggest padel centre", than an even bigger hall announces its opening.
The secret behind padel's success
The simplest explanation behind padel's popularity is that it's really great fun. Like me, most people take to it directly. The real beauty, however, is that it's a much easier learning curve than tennis. If you've played any racket sports, you'll probably play reasonably well from the start but even those with no previous racket sport experience can usually get a game going quite quickly. Easy start-up, excellent fun and endless potential for improvement keep most people coming back for more. Like tennis, padel is mainly an indoor sport in Sweden, which means that it can be played all year round. Perfect for those not so keen on Nordic winters.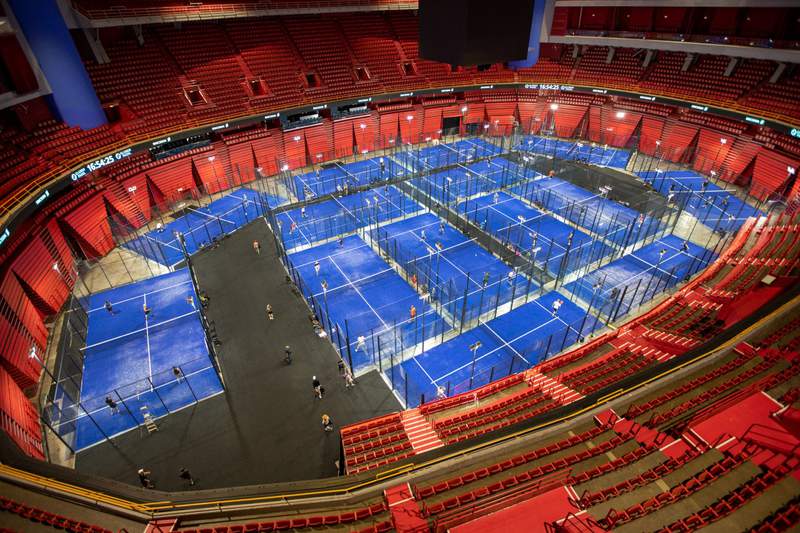 Globen Padel
Even Globen has converted
Luckily they keep opening new centres. The Globen arena in Stockholm has just become one of the latest padel venues, converted to accommodate 14 courts (12 double and 2 single) during the Covid concert ban. Its 85m high ceiling, perfect for concert acoustics, also provides amazing lobbing potential.
Five tips for getting started with padel

If you'd like to try it out (and I warmly recommend that you do), here are my best tips for getting started.
How to book a court?
You can search availability at all padel centres and book and pay online. Padel centres in Stockholm generally use booking services like Matchi or Playtomic.

What to bring?
Padel racket, balls, water. Equipment can also be hired at padel centres.

What to wear?
Shorts & t-shirt / tennis-type clothes, indoor sports shoes. The dress code is usually very relaxed.

How to find someone to play with?
Padel is actually a great conversation starter as it's become so popular. It's well worth floating the idea of arranging a game sometime. In the unlikely event that nobody at work or in your network is interested in playing, you can join a group lesson or book a private lesson via court booking services. Watch out for "Americano" under listed activities; this is an open format which allows you to sign up to play without a partner and to play with multiple different partners during any one session (usually 90 minutes). Unfortunately this format has recently been temporarily suspended due to heightened Covid restrictions but should hopefully be operating again soon.

Are there any free municipal courts?
There are a number of outdoor padel courts in Stockholm which are available free of charge: Svartbäcken, Vendelsö in Haninge has one and Vinterviken (beside Gröndal) has three courts.

Good luck and enjoy!