Categories:

Tourist attractions
Stockholm, full of grace
Publish date: 6 September 2022
So you've made it to Stockholm. Now let me take you further into an amazing architectural era: Swedish Grace! This is a guide to a style of contrasts and to Stockholm's most graceful buildings!
My better half is an architect and he suggested that I make a guide on where to find Swedish Grace in Stockholm. He is full of great ideas, and I am full of curiosity when it comes to architecture, so I decided to dive in!
Lacking a bit of knowledge on the subject I decided to meet with a true expert; Cilla Robach at Nationalmuseum. She guided me through the museum's collections and explained how the term was coined by Philip Morton Shand, a British architectural critic. After Shands's visit to the 1930 Stockholm Exhibition, he observed that the Swedes had abandoned the "national tradition of graceful elegance they had cherished in the 1920s", for something else.
My visit deepened my interest in Swedish Grace, particularly its architectural style. It took me on a journey of graceful elegance which I'd like to share with you in this guide.
The Stockholm Concert Hall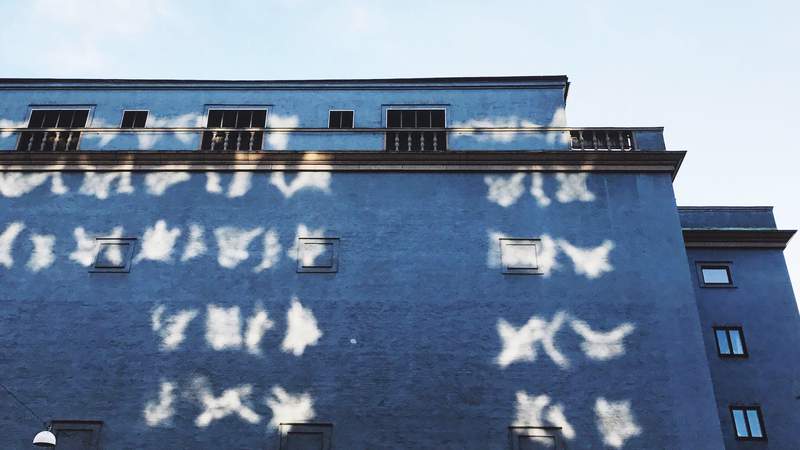 Visit Stockholm
This blue, majestic building was designed by Ivar Tengbom. In my mind, it's the perfect contrast to nearby "Hötorgskraporna"-skyscrapers which is another set of landmarks in central Stockholm. Both the Nobel Prize and Polar Music Prize ceremonies are held annually here. In other words, many prominent people and superstars have walked up the same stairs that we regular Stockholmers like to relax on with ice cream or a meal, on a lovely day. While sitting here you can also admire Carl Milles' sculpture "The Orpheus Well" in front of the building, another great example of Swedish Grace.
Millesgården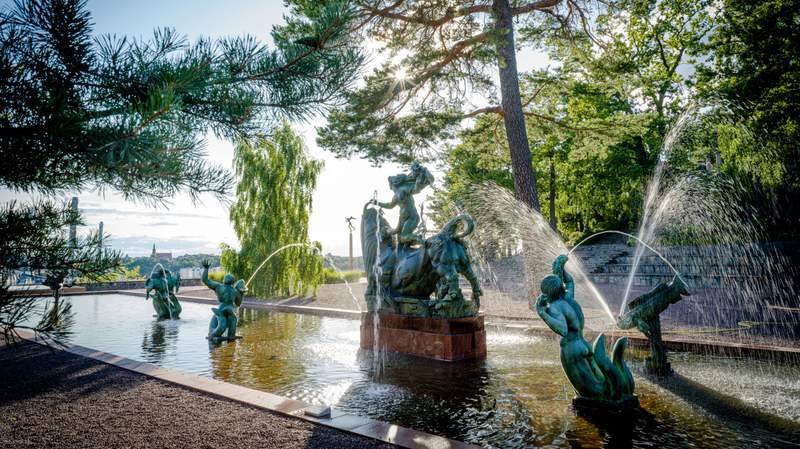 Yanan Li
Carl Milles (1875-1955) is one of Sweden's most famous sculptors. The art museum Millesgården on Lidingö was actually his home and studio, where he lived with his wife Olga (a prominent artist in her own right) for many years. And here, just 20 minutes from central Stockholm, you can enjoy amazing art both indoors and outdoors. One of Milles' most famous pieces, "Milles Angels", is found in the museum's garden; five graceful cherubs, each placed on a separate column, playing music. You'll find the same amazing sculpture in my former home of Gävle, so Millesgården is a place I go to whenever I feel homesick.
Skandiateatern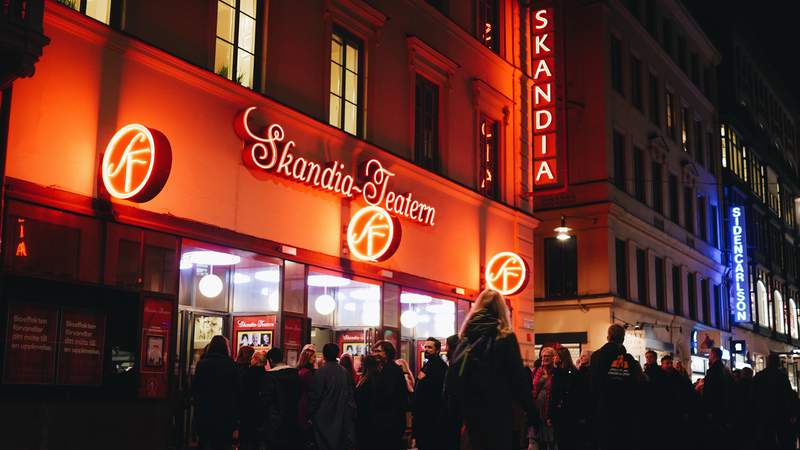 Visit Stockholm
My grandmother used to work at movie theaters, and I fondly remember the time I spent with her growing up, at different cinemas. I guess most of us probably have a special nostalgic relationship with cinemas. The logotype of SF (Svensk Filmindustri/Swedish Film industry) is an example of Swedish Grace in commercial use. Skandia is one of the few theaters where you can see it live since the signs at most cinemas were replaced when SF sold its movie theaters to AMC/Odeon some years ago. Apart from the neon signs that have been left intact, the place itself is like a monument for Swedish Grace, taken from a movie. Designed by architect Gunnar Asplund it delivers grace in spades; like the gilded cinema curtain, the snake stair railing, and the opposing Adam and Eve sculptures on each side of the screen.
The Woodland Cemetary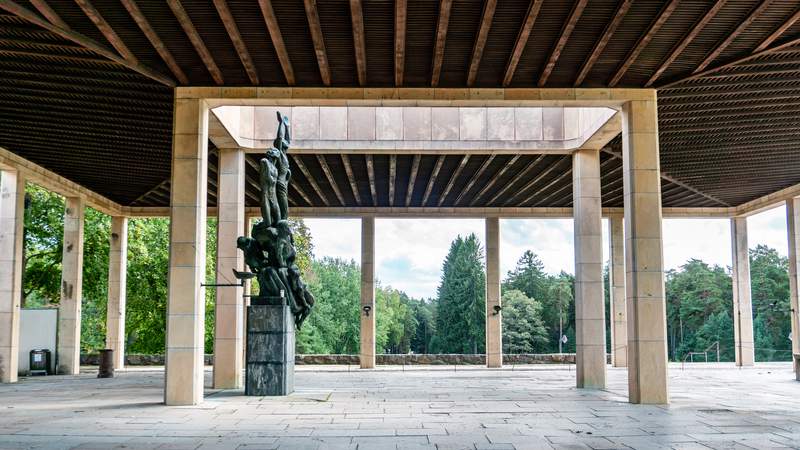 Visit Stockholm
I've written about this masterpiece in an earlier guide and I'm happy to do it again. I want every visitor in Stockholm to find this incredible place. So what makes it a prime example of Swedish Grace? Well, for starters it was designed by Gunnar Asplund and Sigurd Lewerentz, two leading architects of the movement. Secondly, it was constructed during the years considered to be the Swedish Grace period, which you'll find plenty of evidence for. Swedish Grace is literally put to final rest here too. As you can read in my other guide you'll find Greta Garbo's grave here. An icon of Swedish cinema whose career coincided with the Swedish Grace era. Coincidently Swedish film experienced its first boom in the latter half of the silent age of cinema, 1912-1924. This period is often called the Golden Age of Swedish Cinema.
The Stockholm Public Library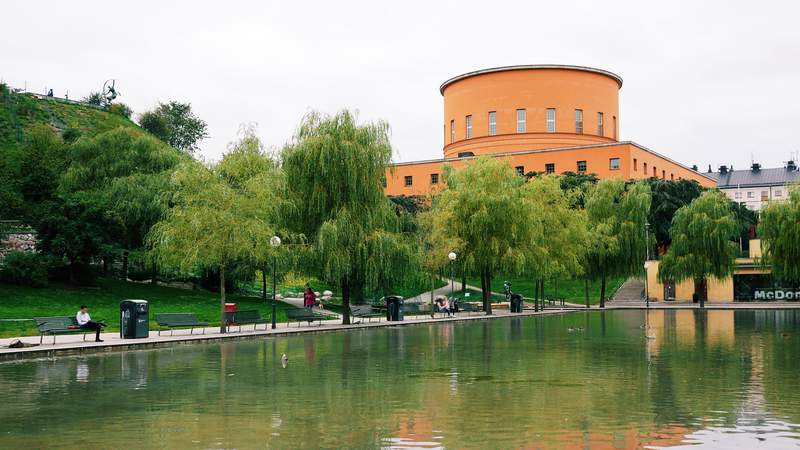 Visit Stockholm
I've always loved this unique orange building, with its cylinder shape standing on top of a square base. Even before I knew it was considered Swedish Grace. It's one of architect Gunnar Asplund's most notable works. A fun fact is that it was the first library in Sweden to apply the "open shelves"-principle, something Asplund picked up during a trip to the States during the design process. Meaning that visitors could access and pick books themselves, instead of over the counter. Even if the Swedish Grace school often looked internationally for exotic influences I think Asplund never expected a McDonald's to be located at the base of this building. But there is, and one very late summer night when I and my friend Jonas were having burgers here, on the patio, we were asked to leave since they were going to detonate a bomb. Luckily it turned out that the bomb wasn't real; they were actually shooting a scene for a film inspired by the real-life bomb explosion at this very McDonald's in the 1970s.
Stockholm City Hall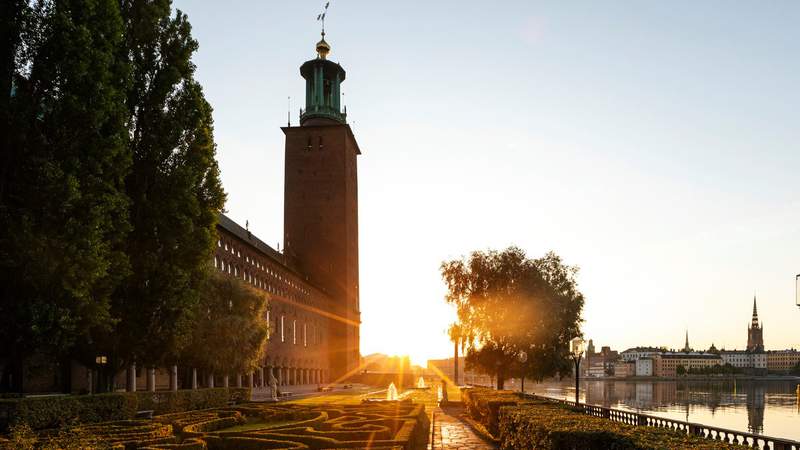 Henrik Trygg
This is a location I'm sure you'll find even without a guide. But it simply has to be mentioned when talking about Swedish Grace. Designed by Ragnar Östberg, its construction took a long time to complete (1911-1923). But it was completed during the Swedish Grace era and the influences are evident. This is actually one of my favorite buildings in Stockholm, especially in late winter/early spring as a perfect destination for a walk and to catch some sun rays. And the interior is as impressive as the exterior, so do yourself a favor and step in. One way to get in is to win the Nobel Prize; this is where the annual banquet is held on the 10th of December.
The Matchstick Palace (Tändstickspalatset)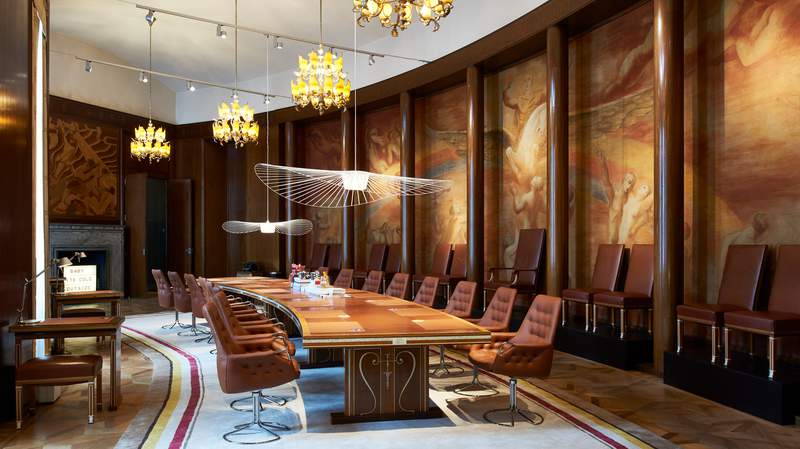 Kapitel8
Literally a hidden gem you have to know about to find (and that's where I come into the picture 😉), but that you definitely should go and see. Let me give you some background since I'm fascinated by old financial dynasties. This townhouse palace on a side street to Kungsträdgården was designed by Ivar Tengbom and commissioned by entrepreneur and industrialist Ivar Kreuger. Already a wealthy man, Kreuger managed to negotiate a near-monopoly on the production of matches with various governments, in the period between the two world wars. At one point his company controlled upwards of 75 % of the world's total match production. Kreuger made a lot of "money, money, money" and earned the moniker "The Match King". So the centrally located Matchstick Palace ("Tändstickspalatset") was to be an opulent crowning jewel of his empire. No expense was spared as many of the era's biggest artists and designers contributed to the now-listed building. For example Carl Milles, Elsa Gullberg, and Carl Malmsten. Just four years after its completion though, Kreuger had fallen on hard times and liquidity problems. He was found dead in his Paris apartment in 1932, in a suspected suicide. His death caused the collapse of the empire and dragged the rest of the financial market along with it, in what has been named "The Kreuger Crash". In a way, his passing put an end not only to the roaring 1920s in Sweden but the Swedish Grace period as well.
Shopping Swedish Grace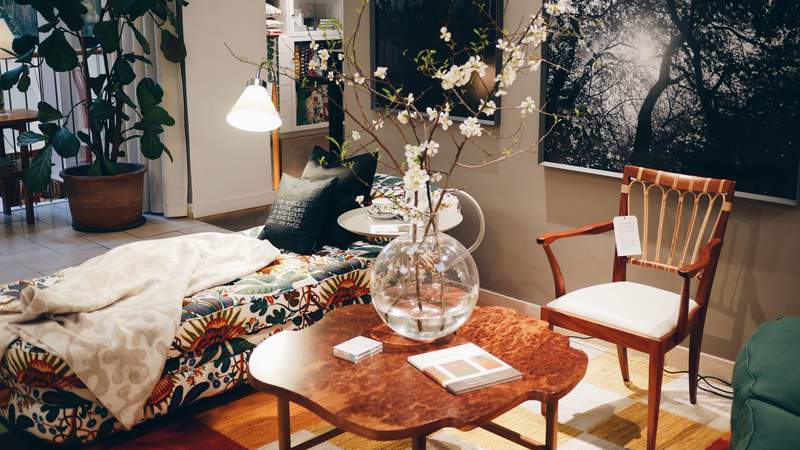 Visit Stockholm
Svenskt Tenn, Carl Malmsten, Modernity, and NK. Located within walking distance from each other these stores are almost like a golden area of Swedish Grace shopping! Estrid Ericson-founded Svenskt Tenn is a mecca for the style and the same goes for Carl Malmsten. At Modernity, you'll find carefully selected design pieces from the 20th century. Perhaps if you're lucky you'll find something truly gracefully! Department store NK is for all kinds of shopping, and even though this building (designed by Ferdinand Boberg) predates Swedish Grace design I personally do think there's a graceful quality to it.