Categories:

Activities
Sunny walks with stunning views
Publish date: 28 May 2021
Stockholm is great to discover on foot. The city offers stunning views, thanks to the surrounding water, many hills, and clear air. Depending on the season, some walks are better than others. I will give you some hints below.
Describing a route is a little tricky. But I trust that you have a GPS on your phone and aren't afraid of stopping a local to ask for directions. And most importantly, you like to lose track of time and just enjoy the walk. A good walk is not an "A to B" thing.
Mariaberget – Skinnarviksberget
Walking along this 'mountain', on the north side of Södermalm, will give you a stunning view of almost the entire inner city. This short but beautiful walk is likely to impress any visitor with its scenic views and picturesque architecture.
Start off by traveling to Mariatorget subway station and grab a coffee. The nearby Kaffe, S:t Pauls Bageri, Drop Coffee, Bageri Petrus, or Johan & Nyström are some suggestions. Set your GPS on Black & Brown and you'll find a cobblestoned street called Blecktornsgränd. Walk up the hill towards Monteliusvägen, and don't be afraid to explore the area for a while.
Continue by walking west along Monteliusvägen and you'll soon reach its highest point, Skinnarviksberget. It doesn't matter if it's winter, summer, autumn, or spring – the Skinnarviksberget is the place to be for a Stockholm-sunset.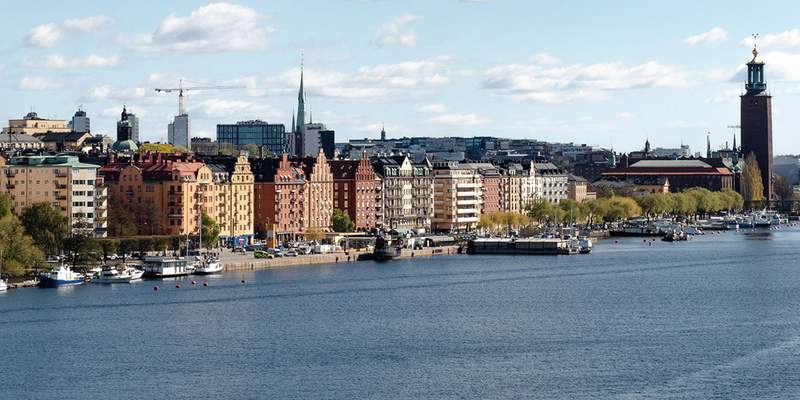 Visit Stockholm
Around Riddarfjärden
This one is best experienced during winter since it's a walk without any shade. Clever for a city where half of the year is spent chasing the sunlight. The trick for this walk is to be up early and to be here on a clear day (luckily, a clear sky is quite common in Stockholm).
I usually start in Hornstull since I used to live here, but you can start wherever you like along the shore of Riddarfjärden. If you start in Hornstull you can pick up a coffee at any of the many cafés. Your first part will be over the bridge and landmark called Västerbron, which will take your breath away.
Once you're over the bridge, turn right and follow the water east towards Stockholm City Hall. This part will take you about 20 minutes. You will have the sun in your face and you'll meet a lot of locals on this highway for strollers.
After The City Hall, it's time to cross the water again. Continue following the path that runs over to Riddarholmen island and from there, head over to Södermalm via Gamla Stan and/or Slussen. This part might be tricky to navigate tough, due to the reconstruction of Slussen. One option is to hop on the free ferry from Klara Mälarstrand (right next to The City Hall), straight to Söder Mälarstrand. From there, let your GPS guide you to Monteliusvägen and walk the same path as described above in "Mariaberget-Skinnarviksberget".
The Woodland Cemetery
Get on the green line and go to subway station Skogskyrkogården (The Woodland Cemetery). I know you're looking to walk, but it's a long and winding road, with lots of traffic to navigate around.
Once there you will get to see the incredible architecture, and a moment of inner peace is promised. Among the many graves, you'll find the final resting place of a true local: Greta Garbo. Garbo led a secretive life, but her grave is easy to find if you want to our Swedish superstar your respects.
Afterward, put your GPS on Matateljén or Gamla Enskede Matbod and you will have a good 25-minute walk through the very picturesque neighborhood of Gamla Enskede and finish off on a very local note.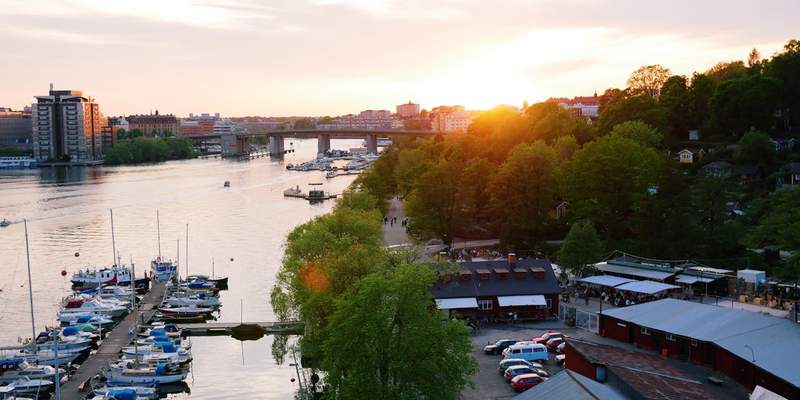 Visit Stockholm
Årstaviken
If Riddarfjärden is a perfect winter-stroll, a walk around Årstaviken is one of the first signs of spring to me personally. At the tail-end of winter, when the sun finds its way back to Årstaviken, it attracts a huge amount of weekend walkers. In a way, it's a long outdoor catwalk. Great if you just enjoy observing other people!
You can start at either end, but for this guide's sake, we'll start in Skanstull. Set your GPS on the restaurant Nyfiken Gul (which is a reference to the cult film "I Am Curious (Yellow)" from 1967) and you're right on track. Then just follow your co-walkers towards Hornstull.
Now, either stay in Hornstull for a fika, food, or drinks and then return the same way you came. Or, if you prefer a walk around the bay, cross Årstabron Bridge before you reach Hornstull. On the other side, you'll get a totally different experience with a lovely forest-walk.