Categories:

Activities
My favorite summer hangouts in Nacka
Publish date: 7 June 2022
Nacka has lots of archipelago-vibe to offer. Here are my best tips for a lovely summer day with nature, fun activities, and ice cream just a few minutes away from the city.
In my book, Nacka is like an "archipelago light". It's close enough to central Stockholm for a spontaneous excursion; You'll be there in 15-20 minutes either by taking a bus from Slussen or a commuter ferry from downtown Stockholm. At the same time, you'll get a taste of what the archipelago has to offer, with Nacka's closeness to the sea and abundance of nature. And, if you're looking to venture further out in the inner-archipelago – for example to Saltsjöbaden, Värmdö, Gustavsberg, Ingarö, or Värmdö – this municipality to the southeast of Stockholm is a great starting point.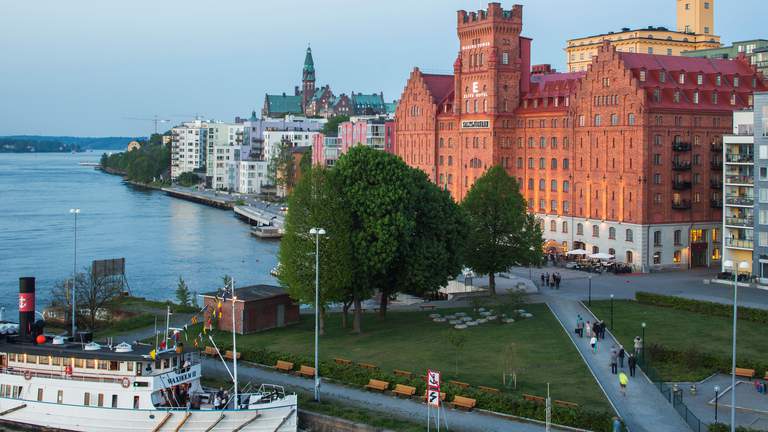 If you go by sea, I recommend disembarking at Saltsjökvarn. Here you'll see an industrial bricked building in front of you, the old Saltsjökvarn-mill. Built during the late 19th century, the mill was converted into Elite Hotel Marina Tower in 2011. The hotel has a spa, restaurant, and bar, and is a great spot to spend balmy summer evenings. Its patio has a lovely view of Djurgården, Waldemarsudde, and the waters of Saltsjön. Following the waterfront west of the hotel, you'll come across Boule & Berså after a short walk. This cozy outdoor bar, with its secluded location almost under the Danvik bridge, is a nice place to unwind with some drinks, food, and a game of petanque or two.
While on the subject of things to do in Nacka, Golfbaren Nacka Strand is worth mentioning, if you're looking for a family-friendly activity. Nice food and drinks, and a great miniature golf course with enough of a challenge to keep everyone entertained. And speaking of family-friendly you'll find Nacka's best ice cream at Kennys Gelato. Currently, Kennys has three locations; Sickla köpkvarter, Tollare in Saltsjö-boo and on Djurgården. Its founder, Kenny Mattsson, was actually crowned Swedish ice cream master at the national ice cream championships.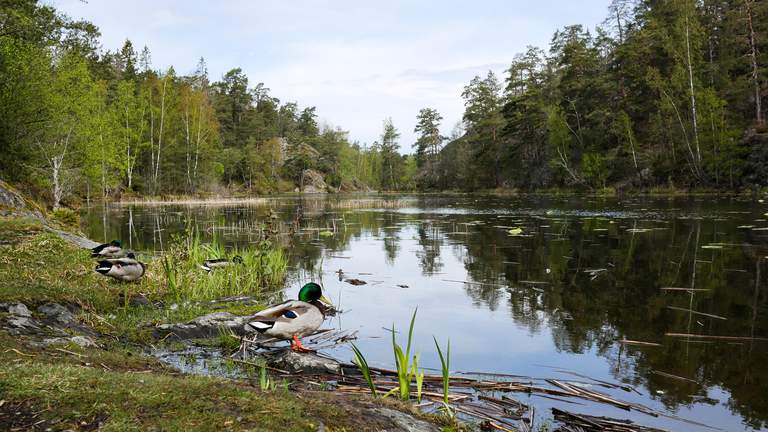 If you're looking to experience some wonderful Stockholm nature you don't have to go further than the Nacka nature reserve. I happen to live quite close to the reserve so I usually take my e-bike, which you can do from the city as well. But you can also take a bus 401 from Slussen and hop off at Hellasgården, a recreation area with a restaurant and café, and something akin to a visitors' center. The reserve has many paths great for hiking or biking and several lakes perfect for a summer dip or some kayaking. It's not hard to see why it's one of the most popular outdoor areas in Stockholm.
Anyone looking for a beach or lake for a summer swim has several great options in Stockholm – especially if you don't mind jumping from a 10-15 feet diving tower! Flatenbadet, Ingarö havscamping and Tyresö Strand for example. In the Nacka area, you'll find the lovely Saltsjöbadets friluftsbad. This turn-of-the-century open-air bathhouse is beautifully located by the sea in Saltsjöbaden. With dressing rooms, a restaurant, and a spa, it is well worth a day trip.