Categories:

Restaurants
Have a bite of Nobel cuisine
Publish date: 5 October 2022
Would you like a taste of the Nobel banquet? Here are the Stockholm restaurants and cafés run by chefs that have worked at the prestigious event.
The Nobel banquet is without question the most famous dinner party in Sweden. On the 10th of December each year, Nobel Prize laureates, prominent scientists, politicians, dignitaries, and royals gather for an elegant three-course dinner out of the ordinary.
The first banquets, in the early 20th century, were relatively modest affairs with some 130 guests. A modern Nobel dinner is a far more complex undertaking. Roughly 1300 guests are seated in the Stockholm City Hall, while the whole world is watching via satellite. Seeing servitors carry starters, mains, and desserts out to the tables of the Blue Hall is like watching a carefully choreographed dance performance. And being in charge of the menu has become a badge of honor among chefs and patissiers.
Besides the individual chef's sensibilities and philosophy, the menu often highlights Swedish flavors and cooking methods. The meals also reflect the society and times that formed them. In 1947, for example, diners were treated to a menu that would probably seem banal in today's world of Instagramming foodies: Sandwiches, chicken with bacon and onions, and apple cake with vanilla custard. But for post-war Europe, still recovering after a devastating war, it was perhaps a reminder of simpler times and beloved flavors. Twenty years later, in the late '60s, avocado found its way to the menu two years in a row. Today you'd have to go out of your way to not find a café serving avocado toast, but back then the large berry (sic!) was a new and exotic addition to Swedish store shelves. And in light of how climate challenges and sustainability have become integral to everyday life, it's no wonder that 2017's dinner guests were treated to an entirely vegetarian entrée: Pressed and dried Jerusalem artichoke, served with kohlrabi flowers and flavored with ginger and lightly roasted cabbage broth.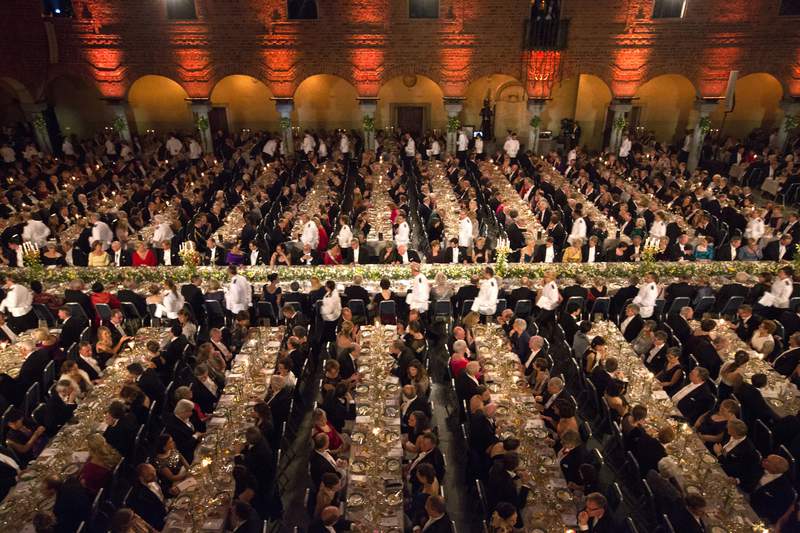 © Nobel Media AB/Photo/Helena Paulin-Strömberg
Anyone wanting a taste of Nobel dinner-worthy gastronomy is in luck. Several of the celebrity chefs work – and own restaurants – in Stockholm. And if you book in advance, there are even ways to eat your way through an entire Nobel menu.
Cafées
BAK – BAK in the southern suburb of Hökarängen was founded by Conrad Tyrsén och Ted Johansson. They were in charge of dessert at the 2012 and 2013 Nobel dinners. The bakery and pastry shop has become a local hot spot and besides buns, bread, and cake they serve lunch and dinner. During the summer season, BAK also opens up an open-air bar, serving fresh drinks and cold beer.
K-Märkt – Daniel Roos has made the Nobel dessert six times, 2014-2019. You can get firsthand experience of his innovative cakes at K-Märkt. K-Märkt is also a lunch restaurant and has branches on Södermalm and Hötorgshallen. But the bakery, where all the desserts are made, is located in their main restaurant on Östermalm.
Magnus Johansson Bageri & Konditori ­– Magnus Johansson has been in charge of the Nobel dessert a total of eleven times, which is a modern-day record. You'll find his own bakery in Hammarby Sjöstad, and just a couple of doors down Magnus Johansson Glass & Konfektyr. Bread, buns, cakes, cookies, ice cream, and sweets are all made from locally sourced and sustainable ingredients.
Restaurants
Frantzén på NK – The Frantzén Group (of three-starred Frantzén-fame) operates several eateries at the NK department store. The classic lunch restaurant Bobergs Matsal, Swedish diner-deluxe Nordiska Kantinen and the salad bar Botanique. Head-chef for all three is Fredrik Björlin who designed the menu for the 2013 banquet together with Andreas Hedlund.
Lilla Ego ­– Tom Sjöstedt was in charge of the 2017 and 2018 banquets. His second sojourn in particular relied heavily on typical Nordic ingredients like chanterelle mushrooms, dill, apples, fish, and root vegetables. At his restaurant Lilla Ego in Vasastan he's continued to serve his version of classic Swedish cuisine; with contemporary elements and international twists.
Nour – Michelin-starred chef Sayan Isaksson has prepared the Nobel banquet on two occasions, 2015 and 2016. He has run several celebrated restaurants, like Esperanto and Imouto. In 2021 he opened his latest venture, Nour. Named after his daughter, the fine dining restaurant mixes Swedish and Japanese cuisine. Guests have two fixed menus to choose from, a large and a small.
Teatern – Food court Teatern, at the Ringen shopping mall on Södermalm, is a place for fast-food gourmands, craving more than just your average burger or sushi. You'll find three Nobel chefs represented among the different stalls; Patisserie K-Märkt with Daniel Roos, Sayan Isaksson's Asian lunches at Nu, and Malin Söderström's seafood at The Fishery.
The Fishery – Malin Söderström made history as the first female head chef of the Nobel dinner in 2011. Her starter was a lobster dish, and you can experience her love of seafood at The Fishery. You'll find the lunch restaurant at Brunkebergs torg in central Stockholm, and in the Ringen shopping mall on Södermalm. She also runs the lunch restaurant at Moderna Muséet – MoMu Mat.
Tegelbacken – The food at Markus Aujalays colorfully decorated Tegelbacken, located just across the water from the Swedish parliament, is unpretentious yet full of flavor. Only serving small-to-medium-sized dishes, the idea is to let guests try more than just one or two dishes. Markus Aujalay was in charge of the 2005 Nobel menu together with Håkan Thörnström and Torsten Körling.
Villa Wera – The breakfast and lunch restaurant Villa Wera describe their menu as "homemade 2.0"; beloved classics and contemporary dishes made with great craftsmanship and from carefully selected produce. Andreas Hedlund, one of the chefs behind Villa Wera, has been a Nobel chef on two occasions: In 2012 and – together with Fredrik Björlin, in 2013.
There are two more restaurants in Stockholm that any Nobel aficionado should know about. Den Gylldene Freden in Gamla stan served their first hot meals in 1722. Almost 200 years later the restaurant was bought by artist Anders Zorn, who after his death left it in the care of the Swedish Academy. The food is typically Swedish, with timeless stalwarts of Swedish cuisine, and it's been said that the winners of the literature prize are often decided over pea-soup at the Academy's traditional Thursday luncheons.
If you're keen to eat the actual Nobel dinner you'd probably want to have dinner at Stadshuskällaren, the restaurant at the Stockholm City Hall. In fact, the head chef at Stadshuskällaren was in charge of the menu för the banquet up until 1996. Diners can book a veritable feast with any past Nobel menu, as long as the booking is made at least one week in advance and the party is 10 people or bigger.
Food is only a part of the celebrations on the 10th of December. Learn more about the careful planning of the banquet at The Noble Prize Museum and the exhibition The Nobel Prize banquet – behind the scenes. You'll meet its past chefs, florists, bannermen, and the designers behind some of the most eye-catching gala dresses seen through the years.