Categories:

Tourist attractions
Easter in Stockholm
Publish date: 16 March 2023
Flying witches, loads of candy, and spring celebrations – that's what characterizes the Swedish version of Easter ("påsk").
Sweden is a secular country, so the Easter holiday is more about celebrating the first long, holiday weekend of spring, rather than any religious traditions. Many Stockholmers simply enjoy the extra days off from work and use them to spend time with their friends and families.
Children traditionally dress up as (cute) witches, and go "trick or treating" around the neighborhood. Legend has it Easter was the time when the witches flew off on broomsticks to dance with the devil on the island of Blåkulla.
Easter delicacies
Just like Christmas and Midsummer, Easter Eve is the holiday's major feast day. That is the day to enjoy traditional food, which is also the same as on Christmas and Midsummer: Pickled herring, potatoes, salmon, meatballs, and "Jansson's frestelse" (a creamy mix of potatoes, onions, and anchovies). Just add lots of eggs and loads of candy.
Stock up on easter sweets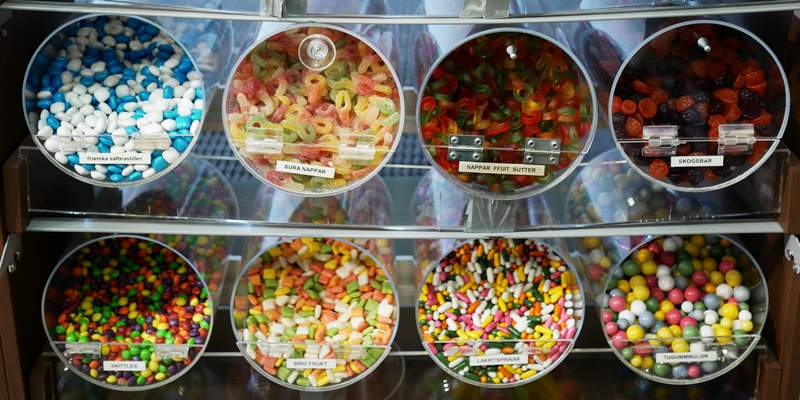 Visit Stockholm
There are many of us who take the opportunity to grab a piece of candy – or two, or three, or a handful – during easter. Here's a small selection of candy shops, both highly specialized and general, where you'll surely get your fill!
Chokladfabriken – Handmade chocolate in every shape and form. Small treats, petits fours, wedding cakes, drinking chocolate, cupcakes, and much more.
Pärlans konfektyr – Traditional handmade fudge according to old-time recipes and with all-natural ingredients.
Lakritsroten – A stylish specialist shop that has all kinds both salty and sweet licorice from around the world.
Gamla stans polkagriskokeri – Polkagrisar is a traditional Swedish peppermint-tasting candy and is rolled by hand at Gamla stans polkagriskokeri.
Caramella – Candy shop on Hötorget that has a wide selection of typically Swedish pick and mix candy. You'll find most classics here like Swedish fish, jelly frogs, chocolate coins, and more.
Skansen is a beloved attraction for families celebrating easter in Stockholm. You'll get a great mix of Swedish easter tradition and will (hopefully) catch some early-spring sun. Other museums and attractions with large outdoor areas where you can enjoy the spring weather Artipelag, Bergius Botanic Garden, and The Woodland Cemetary.
If you're looking for indoor attractions, on the other hand, most museums in Stockholm are open some, or every day, during Easter week. Many also have special activities and workshops for kids and families, like The Nobel Museum, The Viking Museum, and Moderna Museet.
This guide is continuously updated with new events.