Categories:

Tourist attractions
Stadsgårdsterminalen's new groove
Publish date: 10 October 2023
Stadsgårdsterminalen on Södermalm is Stockholm's newest art, music, and culture venue. Their biggest booking yet is a touring exhibition about the iconic street artist Banksy. "As soon as you exit it you'll find yourself at Kollektivet Livet Bar & Scen", says Stadsgårdsterminalen's Andreas Blom. "It's like two worlds coming together."
The touring exhibition The Mystery of Banksy – A Genius Mind has brought with it a sense of meticulous chaos into Stadsgårdsterminalen, transforming the former cruise ship terminal into a maze covered by reproductions of the enigmatic street artist's most notable works. Everything is framed by the glass, concrete, and metal that up until 2020 held the departures- and arrivals hall for Birka Cruises's Baltic ferries. But that also, in a way, mirrors the public spaces where Banksy's distinctive stencil graffiti is usually found.
You'll find a masked protester with a fistful of flowers taking aim at smiley-faced riot police. There's a nod to the hotel with the world's worst view, the Walled Off Hotel in Bethlehem. Not to mention the elephant in the room; an animal painted red and covered by a golden medallion pattern. Made of fiberglass, that is. Unlike the live elephant that was featured in Banksy's controversial 2006 Los Angeles exhibition.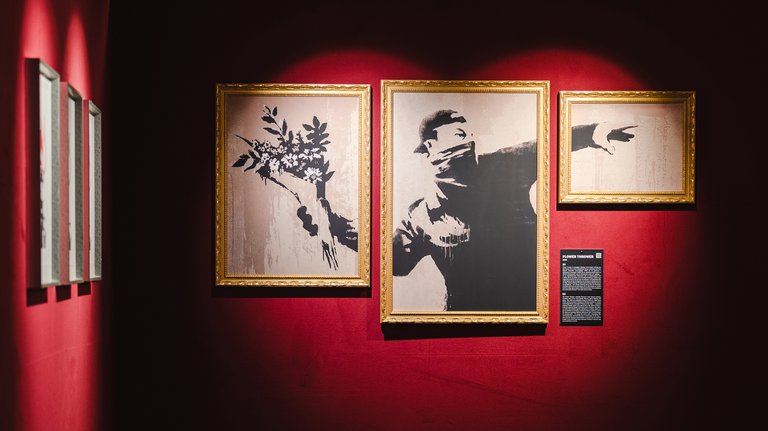 The Mystery of Banksy is the first major exhibition of its kind at Stadsgårdsterminalen and something Andreas Blom (Head of Culture at Stadsgårdsterminalen) has been looking forward to. With a background in urban art, he could envision the art form having a natural home in the decommissioned terminal's bare industrial spaces.
"You really can see it having a home here", says Blom. "This particular exhibition, about one of the world's most exciting artists, could have been at any cultural institution. But as soon as you exit you'll find yourself at Kollektivet Livet Bar & Scen. It's like two worlds coming together."
Stadsgårdsterminalen's second life as a cultural hub began in 2022 after it had landed in the care of Andreas Blom and the creative agency Kollektivet Livet. Shipping company Birka Cruises, the terminal's previous owner, filed for bankruptcy a year earlier due to unsustainable economic prospects in the wake of the COVID-19 pandemic.
"Walking by practically every day, I saw the building being vacated step by step. The situation was very grim, and it was really moving as Birka was one of the larger companies that went under during the pandemic's first wave."
But at the same time, Andreas spotted an opportunity.
"I've probably pressed my face against every window here. With my background in urban art and love for old industrial buildings, I could really see the room open up. The space is awesome. I started cold calling and managed to badger us in here. It's a real privilege to have a responsibility for this kind of location. And having the ability to pull in people, from -and outside of our circles, in a new context to create something together. It's as if all the stars aligned in just the right constellation."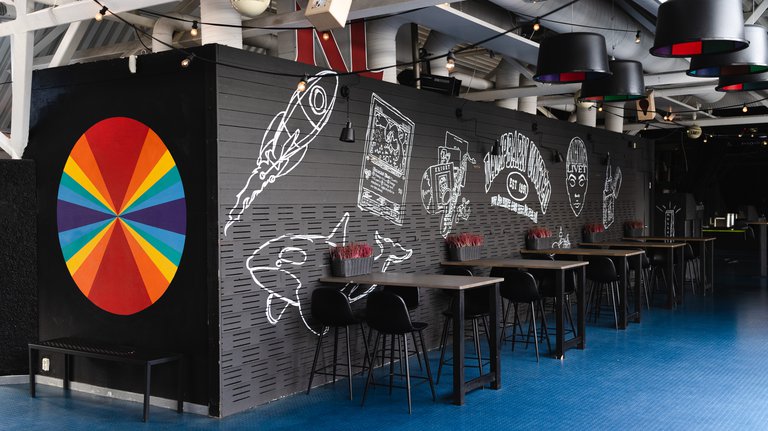 Andreas Blom enthusiastically corals us through refurbished rooms and hallways. It's still unmistakenly a former cruise ship terminal, with smoothly ascending ramps where thousands of carry-ons once clickety-clacked away to a weekend at sea.
But the murmur of passengers and sound of tinkling tax-free shopping bags going through customs has been replaced with indie pop, interactive theatre, performance art, and film – preferably in unexpected combinations.
"We want to be a place you'll leave a little later than expected, and a little richer on new experiences", Andreas explains. "Let's say you were here for a concert. Leaving, you'll stumble across a croquis class – welcome to have a glass of wine and join in! Or maybe you'll walk downstairs to Tullen [the terminal's former customs facility] where we might host a workshop with artists and researchers running some kind of project together. Those kinds of interactions are very stimulating, I think."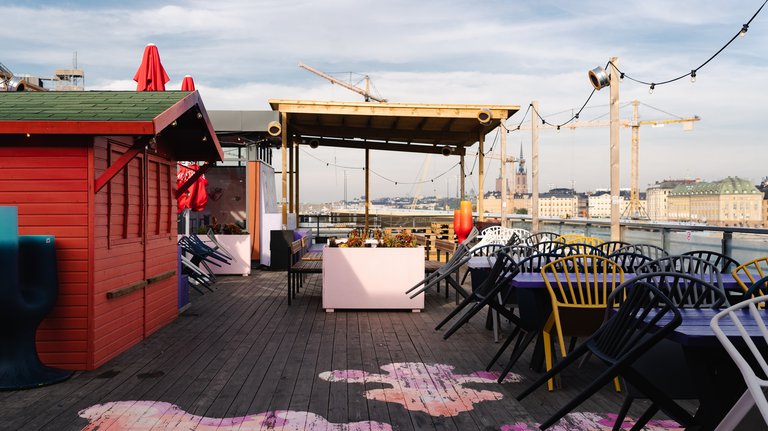 Besides the two main halls (Avgångshallen and Ankomsthallen) Stadsgårdsterminalen features an indoor stage for music and performances, a bar and pizza kitchen, a roof-top bar, and a co-working area for freelancers and smaller companies. The stairwells around the complex have been turned into temporary mini-art exhibitions.
Since opening in 2022. the cultural hub has been a place for music, dancing, nightclubs, and stand-up comedy. In September 2023, the Stockholm Beer & Whiskey Festival visited with a smaller "by the sea"-edition of the annual beverage fest, and in May of the same year, Stadsgårdsterminalen hosted the Supermarket independent art fair.
Kollektivet Livet has run several public venues, like Grottan on Fridhemsplan or Konstjord in Sickla. But nothing ever came close to Stadsgårdsterminales size ("We have a capacity for somewhere between 500 and 1000 people"). It also fills a void on Stockholm's cultural venue tier list, according to Andreas Blom.
"Many venues have closed down during the last couple of years. You can feel it simmer again with new cool initiatives, which is great. But artists and organizers need access to audiences of different sizes and constellations. And I really believe we make a contribution there."