Categories:

Restaurants
Experience a world of flavors in Järva
Publish date: 14 March 2023
Whenever you come up to Järva next – make sure to arrive on an empty stomach; the variety is so diverse here you'll find it impossible to return without filling up on all the goodies from all around the world.
The communities that live around Järvafältet in the northwest of Stockholm, Akalla, Husby, Kista, Rinkeby, Tensta, and Hjulsta, are some of the most demographically diverse in the city. The majority of people that live in these neighborhoods are classified statistically as having a foreign background. That is, they were either born abroad, or born in Sweden to foreign-born parents. And those foreign backgrounds encompass all four corners of the globe, with thousands of residents hailing from Asia, Africa, Europe, and America.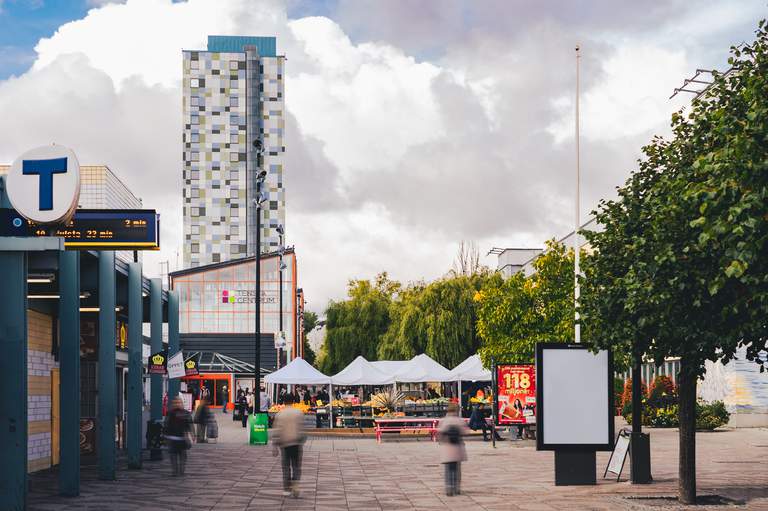 And while people may have left their home countries behind them, their food culture is something that made the journey. Here is a part of Stockholm where meatballs and lingonberry jam play second fiddle to samosas, falafels, and all things in-between.
One of the area's most well-known restaurants is Vanak, a Persian restaurant about a two-minute walk from Akalla's bus and subway station. Located on the ground floor of a very non-descript apartment block, the interior transports you to an oriental palace, just as much as the saffron-infused rice or the fragrant herbs added to each dish. For those not fancying a full meal, another two minutes down the road you'll find the offshoot pastry shop Vanak Konditori for sweet delicacies from the region.
The variety on offer around these neighborhoods will surprise even those expecting diversity. While I could point you in the direction of Lavin in Kista for Kurdish cuisine, or Husby's Anatolia Kolgrill for Turkish-style kebabs, there is the option here to have a taste sensation without trekking around each neighborhood.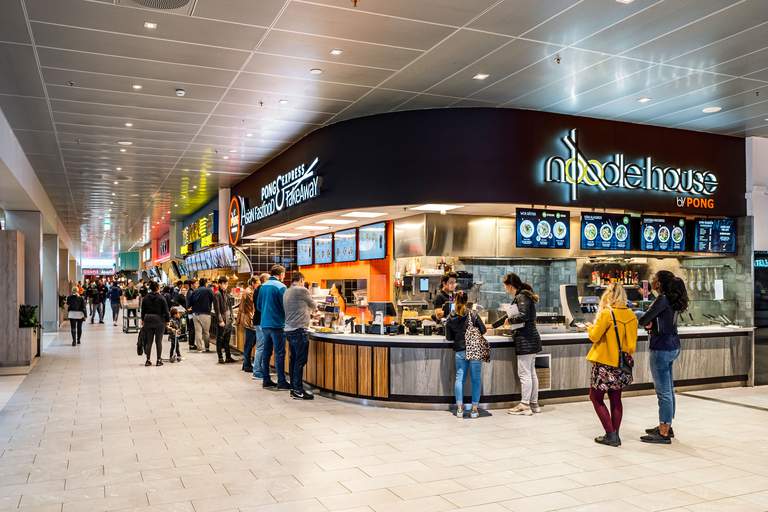 Kista Galleria, one of the largest shopping malls in Stockholm also features the city's biggest food court. Here you'll find a taste for everyone, and while the biggest queues are often at Mangal (kebabs and pide, a Turkish pizza-ish dish) my personal favorite is the Vietnamese place in the far back corner where rich soups are freshly prepared.
If you visit with a toddler as I often do (my son, if you must know) you may end up at the food court overlooking the bus station and watching the flow of traffic moving in and out of one of northern Stockholm's main traffic hubs. Nestled within that bus station is the New Mamma Africa restaurant, offering Eritrean and Ethiopian cuisine. Food from east Africa focuses on deep, powerful stews with plenty of spice coupled with the acidic injera bread that calms the palette. The food is best experienced when one eats authentically, using the teff-flour injera to scoop up the stew into a bite-size portion.
I tend to use injera as an alternative to bread for dipping in sauces, and it's becoming increasingly easy to get a hold off in the local supermarkets. You'll find it stored in the fridge sections and generally in bags over +1kg (about 2,2 lbs), however, the Akalla Orient Gross supermarket has tortilla-size packs ideal for picnics.
Two other supermarkets need special mention here for their wide variety of world foods. Kista Grossen, located just outside the aforementioned Galleria, specializes in foods from across the globe but notably a wide range of foods from India. This is where we always get our spices from, and also where you'll find the city's best selection of pick 'n' mix candy.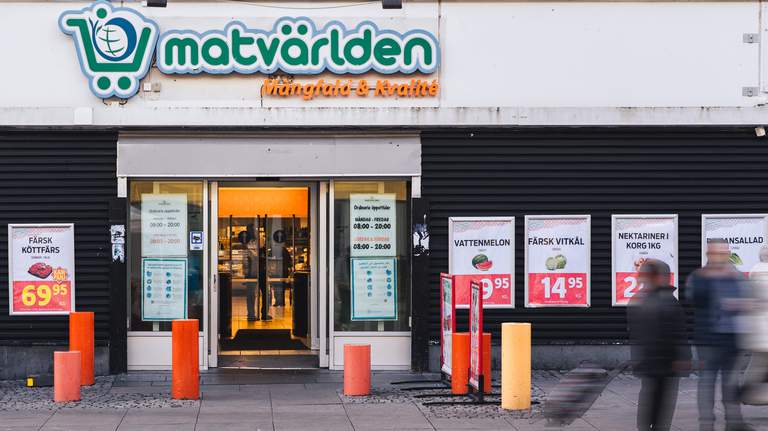 Across Järvafältet, in Tensta, is the other noteworthy supermarket, Matvärlden (literally meaning "The food world"). Where Kista Grossen walked, Matvärlden ran with aisles upon aisles dedicated to products from different regions. From Armenian to Argentinian and even the occasional biscuit from my British home. Highly recommended are the burek slices and baklava you can get at the counter by the shop's entrance.
Also in Tensta, you'll find what is arguably the best Indian food in Stockholm at Punjabi Masala. It's the type of unassuming restaurant that surprises you with a taste sensation, especially with spice levels not catering to the Swedish palate.
And finally to conclude this food journey I should mention a project that goes beyond food. Rinkeby is one subway stop away from Tensta and the home of Yalla Rinkeby, an organization that aims to help provide foreign-born women a chance to gain employment through the catering business. They have grown hugely since forming in 2016 to do tons of mass catering events, but their café is still their pride and joy. Check their Instagram for information on their daily lunch specials. These often include vegetables grown in local allotments, even if the recipes themselves have traveled across land and sea to get here.
Budget-friendly meals
Järva has plenty to explore that is cost-affordable. Here you will find the everyday luxuries that are accessible to the local population. What makes the goodies here extra sweet is that many of them come from organizations that are not multinational companies, but local community groups.
You can go elsewhere in Stockholm for the creme de la creme of food culture. But what beats that time and time again is proper home cooking, and we have that in abundance.
Check out dinner at Husby Folkkök. Based at Husby Gård this is a community, not-for-profit project serving food from the flavors of the local residents' home nations. This takes place currently once every third Friday with dinners costing just 50 SEK (about 5 USD).
Generally speaking, Husby Gård cafe (in the same building as the Folkkök) is also a great bet for cheap eats. Wednesday is soup day including bread for 75 SEK (7.5 USD) and one weekend a month features a 100 SEK (roughly 10 USD) Afternoon tea buffet. Generally, open 12-16.
Keep an eye out for big events like Midsummer or the Christmas market that takes place at Akalla By each year. There are usually local crafts to purchase and furthermore the local sports teams often man the stalls for festive goodies at a reasonable rate, with candy floss, roasted almonds, and popcorn always a favorite for the kids. At these big festive events, Norra Järva Hembygdsförening often opens its doors for a special cafe experience
If you are going to eat out then remember there is nothing more Swedish than a lunch deal, which easily can cut eating out prices by more than half. Indeed in Kista itself, some of the restaurants are only open for lunch as they cater solely to those working in Sweden's 'Silicon Valley'. The website Kvartersmenyn collates all the lunch menus into one place so you can easily choose your favorite offering in each suburb by searching its name.
Eggeby Gård hosts part of the annual Stockholm Jazz Festival each year as well as plenty of other activities befitting Järva Folkets Park. Check out the cafe and plenty of the other events on offer as you wander through Järvafältet. Here the buns are home-baked as are the pies, which come from the local women's organization.
Want to treat the kids? Kista Grossen is my go-to for consistently cheap pick-and-mix sweets with as wide a collection as anywhere else.
My favorite on-the-go snack is a piece of burek from either Matkanonen or Matvärlden in Tensta. At just over 10 SEK (about 1 USD) you get something to fill you up for a few hours. Usually available with meat, potato, or spinach filling.
Kista Galleria is the biggest shopping center and contains lots of high-street brands. Some of them even include outlet stores at a lower price. For those on a lower budget, Kista Galleria also includes the shop Matmissionen. Those with a membership can buy food there at a significantly lower cost than the mainstream supermarkets.