Categories:

Your life in Stockholm
Your new home: How Stockholm startups help you settle in
Publish date: 29 April 2016
Moving abroad is a big deal. As Stockholm startups recruit more international employees than ever before, what are they doing to make sure expats feel at home?
Word has it that the team at LinkedIn Headquarters in Silicon Valley call Stockholm 'The Silicon Forest'. And for good reason – it's a booming tech hub that's recruiting more and more foreign talent. Analysis from LinkedIn shows that a stream of skilled labourers is flowing from all across the world into Stockholm - and basically no one is leaving. According to the LinkedIn data, Stockholm is a 'net importer of talent'.
But, as every Swede knows, happiness isn't just about having the coolest job title. You've got to look at the big picture - including social life, work-life balance, and integration on the whole.
"We don't see a difference between making employees happy at work or happy in life," says Mine Alghazi, Talent and Recruitment Manager at health and fitness app Lifesum. "Our whole business idea is about making people happier and healthier, so of course that includes our own people, too. The social aspects are just as important as the logistics."
Attracting talent is one challenge – but keeping foreign employees at a company is another. Alghazi works extensively with entire recruitment and relocation process, making sure that employees are taken care of every step of the way.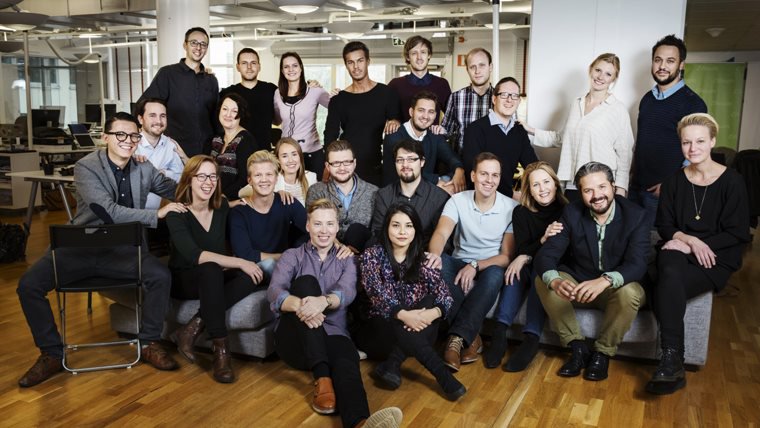 "We work with a firm which helps our employees with things like visas, banks accounts, and going to the tax authority," she says. But it's more than that.
"They're coming to a new country where they don't know anyone, and joining a new culture with a different language. Our mindset is that we should help them at work and socially," Algahzi explains. "So at Lifesum we have a lot of activities together at work to let employees integrate and build personal connections."
Lifesum has group lunches – some of which are specifically hosted in Swedish as a learning opportunity – and activities like yoga, Monday breakfast sessions, and biweekly after-work drinks.
"This Easter we had a lunch for all our relocated employees and whoever else wanted to join – painting eggs and learning Swedish culture together," she says.
And life at Lifesum is no exception – integration assistance within the Stockholm startup world is standard. The very foundation of the Swedish model is a happy, healthy population, and Stockholm startups want their employees to thrive, not just survive.
"Over the last decade we have relocated a lot of people to Stockholm," says Philip Alsén, Manager of Talent Acquisition at Klarna. "So we've learned what works and what doesn't. And we've learned not to leave them on their own."
The company offers relocation services to some 60 to 80 foreign recruits each year, and tries to make the transition as smooth as possible.
"It's important that employees can focus on the things that matter. They don't have to do all the research themselves and they don't have to reinvent the wheel," he says.
In addition to assistance with visas, getting a personal number, and finding housing, Klarna offers free language classes – with a private tutor – for employees.
"It's totally optional though," he adds. "We work in English and we deeply believe you don't need to know Swedish to live and work in Stockholm."
It's all about personal desires and satisfaction – and not just for the employee, but for their families.
"An employee is only as happy as his or her family is," he says. "So we dedicate a lot of resources to the spouse as well."
While foreign employees frequently learn the culture gradually through their interactions on the job, spouses may be side-lined. Klarna offers what Alsén calls "cultural coaching" for spouses, teaching them about the "unwritten rules" of Swedish culture. The company even assists partners who want to look for a job of their own.
"We want to give more support to spouses who haven't had a chance to integrate in a larger context," he says. "We offer career coaching and help them figure out what they can do in Sweden, what the market looks like, how they can fix up their resume, and things like that."
Swedish e-commerce startup Tictail also emphasizes the importance of family satisfaction, and makes an effort beyond the logistics of relocation.
"We want to make the transition more seamless for the entire family unity," says Siavash Ghorbani, co-founder and CTO of Tictail.
"We have weekly Swedish lessons that we invite employees and their spouses too. We also host after work events and other social gatherings, and introduce those who have recently relocated to new friends and potential neighbours. And of course spouses are welcome at all of these gatherings."
So whether you've got questions about the nuts and bolts of relocation, or about how to live the good life after you've arrived, rest assured that startups and tech firms recruiting top talent to Stockholm have got you covered.