Categories:

A woman's place
Recruiting with greater diversity
Publish date: 9 November 2020
By request, we will provide a summary of our bi-monthly A Woman's Place seminars. This article is a break down of representation, gender equality, and diversity - a closer look at the profits of increased gender equality and diversity and the risks of a lack of diverse representation.
The focus of the first seminar was how to avoid recruiting based on our gut feeling and how to find strategies to avoid being influenced by unconscious bias and stereotypes. Rättviseförmedlingen presented their best tips for an inclusive recruitment process. A process that focuses on competence and ensures equal treatment every step of the way – so that we can create greater diversity in our organizations.
Why should you strive for diversity?
Your mission
The role model effect
More creativity and profitability
Attract and keep talent
Companies in the top quartile for gender diversity in their executive teams are 15 percent more likely to experience above-average profitability than companies in the fourth quartile, McKinsey found in its 2017 Delivering growth through diversity report. What's more, for every 10 percent improvement in gender diversity, comes a 2-4 percent increase in overall profits.
"We have more CEOs named Anders than the total of female CEOs", says Maria-Pia Cabero, Education Officer at Rättviseförmedlingen, early in her presentation. The reason for this she believes is that individuals in positions of gatekeeping have been recruiting and networking based on their biases. Many times these biases are unconscious and an effect of preconceptions and unspoken norms, deeply rooted in cultures and handed down through generations.
The conversation then moved into discrimination in large when Cabero presented the classic experiment seen above. Originally performed in the 1940s by psychologists Kenneth and Mamie Clark, it was a series of experiments known colloquially as "the doll tests" to study the psychological effects of segregation in America.
The venue, populated by mostly HR Managers from top Stockholm tech companies, but also CEOs, entrepreneurs and other managerial positions in several industries, were in agreement regarding the solution to this systemic injustice. Breaking the silence and taking proactive measures!
Take proactive measures by asking yourself:
Why is diversity important for your organization?
In what ways are you homogenous?
What clear goals can you set?
"We have a culture of silence in Sweden, and to make progress, we need to be able to talk about this [discrimination]", says Cabero. She has grown tired of terms such as "Time will solve the problem", "They don't exist", or "They don't apply for our jobs", and believe these are lazy excuses that hinder active measures.
However, what if they really don't exist or at least apply for your jobs? What if there, for example, aren't enough women in tech?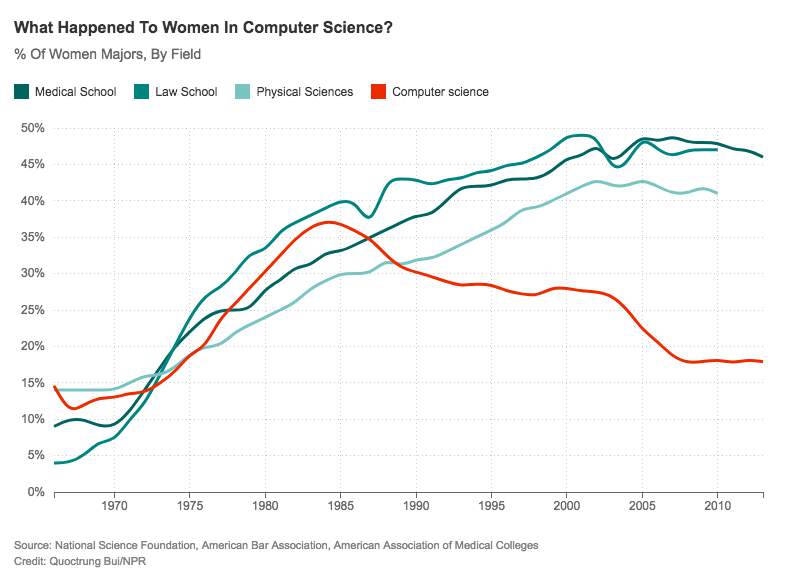 From the beginning of the 60's, we saw an increase of women graduating with a major in computer science. Figures reached an all-time high with approx. 37% of female graduates in the US. Then, an abrupt downfall during the mid 80's, as seen in the graf above. Some contribute this to the extensive marketing of the computer as a Toy for Boys, which led to boys getting familiar with computing at an earlier age and girls being left out, and choosing other subjects for their academic quests.
In similar spirits, there are now efforts formed by organizations and initiatives performed in collaboration with the Stockholm tech scene to reverse engineer this marketing and make IT an attractive career path for young girls. "We hope to see a long-term goal and long-term results", says Ivar Forsling, HR Researcher at Bontouch.
8 tips for more inclusive recruitment:
Go against your "gut feeling" - until the very end
Put together a diverse team when creating the requirement profile
Be conscious of where your ads are published and what they actually communicate
Don't recruit your buddies!
Don't use CV & resume - use a questionnaire and mandatory task/work sample in the first stage of an application
Use tests early on in the process
Have at least two interviewers and use a template
Be transparent and build sustainable relationships