Categories:

Find a job
Why bright minds from across the world are choosing to live in Stockholm
Publish date: 20 December 2021
If the world is your oyster, where do you choose to go and why? Today, many talented people decide by looking firstly for a city that fits their lifestyle – and then for the right job opportunities.
When it comes to achieving this balance, Stockholm offers a rare combination: it's a global tech and start-up hub, a leader in sustainability, and big enough to make an international impact while remaining highly liveable.
The Local spoke with two talented international residents – one with a family and one single – about why they've chosen to make the Swedish capital their long-term home.
'It's small enough to get to know key players' 
Martin Hennig is a senior digital transformation consultant for Stockholm-based NoA Connect. He lives with his wife and two children in Vaxholm – the picturesque, self-proclaimed capital of the Stockholm archipelago, from which the city centre is under an hour away by boat.
But he and his family could so easily be living a very different life. German-born Hennig previously lived in Dublin, briefly in London, and in Connecticut in the US, which he and his American wife Laureen left behind for Stockholm three years ago. 
"We chose Stockholm despite knowing we'd earn less money here," he says. "We did not know the language – we're still learning. We have no family ties to Sweden. And my wife had never set foot on Swedish soil before moving here." 
Even by the standards of today's mobile skilled workers, it would seem a brave move to have made. "We have no regrets and we're happy with our decision," he continues. "Our work-life balance was rather miserable, so while my wife's family in the US did not love the idea of us moving, they supported our decision in the end.
"Stockholm is a really interesting spot with lots of entrepreneurs, innovation and internationally significant companies in fintech, gaming and so on. It's also small enough to get to know key players in a short matter of time."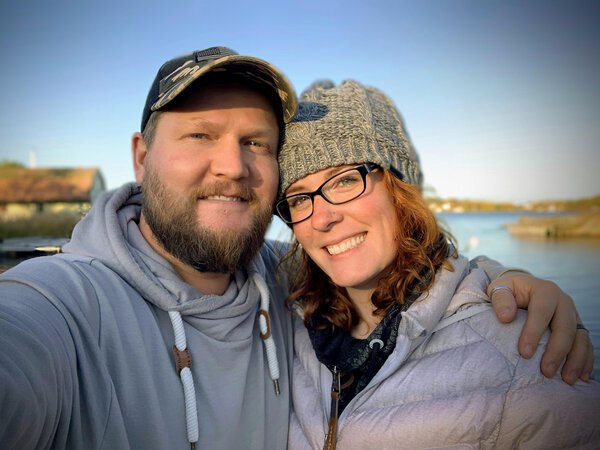 Martin Hennig and his wife Laureen in Vaxholm
'We literally googled "best places to raise families"'
So, how did this all come about? Hennig's only previous experience of Stockholm was on a brief Erasmus exchange programme in 2004. "I thought the city was gorgeous and felt very safe," he says. When he and his wife began to imagine a different life, these positive memories came flooding back – after a little technological prompt.
"We literally googled 'best places to raise families' and Sweden was in the top results," says Hennig. "I remembered how nice Stockholm is. We started looking for work via LinkedIn and realised that many jobs in our field don't require you to speak Swedish."
His wife, a business analyst, soon had an attractive offer. They decided to go for it and had just 12 weeks to sort out the move, with Hennig finding his job later that year. The couple are convinced Google put them on the right track – for family and much more.
Their first child was born in 2015 in the US – where there's no national statutory parental leave and the little you do get varies across states. Hennig says his wife was only entitled to six weeks of 'short-term disability' benefits, while as a father he got no parental leave.
Their second child was born after their move to Stockholm. "Needless to say that experience was completely different," says Hennig – not least in terms of the generous parental leave and low childcare costs. "Our priority was a family-friendly society, a safe place that's liberal, progressive, social. We love our community and we like our work and career outlook too. Home is a bit of a difficult concept for me – but this feels like home."
'I was aware of the great energy in digital innovation'
Growing up as a digital native in the US, Erik Cativo knew from his mid-teens that Stockholm was a centre for cutting-edge technology. The invention of bluetooth at Ericsson's Stockholm offices and early adoption of peer-to-peer file sharing both earned his attention. "I knew there was great energy in digital innovation in Stockholm," he says.
Fast-forward to today and Cativo works at Ericsson in Stockholm himself as a senior UX designer. In September, he took a 28 percent pay cut to leave Washington DC for his new home. 
"I believe in the Nordic model," says Cativo. "Salaries in US tech are high – but it comes at a price. To get the qualifications I needed, I took on US$40,000 in debt at four percent interest." He could be paying off the cost for decades, he says.
So, what about the innovation that first made him aware of Stockholm? "I pay my rent digitally with Bank ID, I make payments with Swish – it really is a digitally advanced society," he says.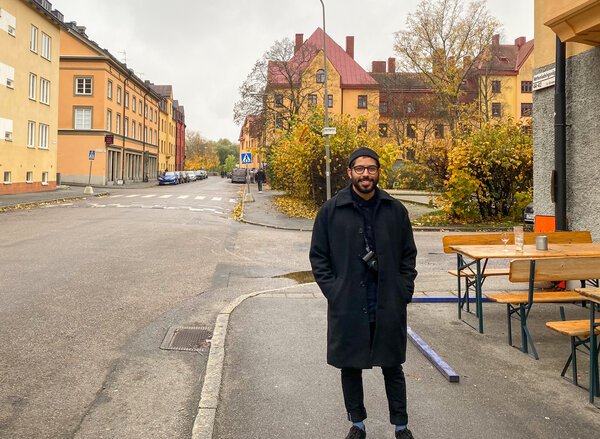 Erik Cativo in Stockholm
Cativo is an example of the highly talented people that a recent report on talent from Invest Stockholm says "call the shots" on who they work with and where. In a "hyper-connected" world, location still matters; the report cites evidence that "two thirds of highly talented individuals choose the city before they choose the company or the job".
'I found it easier to get by with English in Stockholm'
Cativo visited Barcelona, Berlin and Paris in 2017 while studying in Scotland. But after he returned to the US, it was Stockholm that stood out as the place he most wanted to return to.
"There was something about Stockholm that felt very interesting to me," he says. When he decided to look for new job opportunities, he ignored headhunters in the US and the appeal of Berlin to focus purely on Sweden.
"I found it easier to get by with English in Stockholm," he says. "The level of English proficiency in Berlin didn't seem to be as high as here."
He visited several Swedish cities and soon realised that Stockholm was the natural fit for his talent. His appreciation of his new home extends far beyond its tech scene, however.
"Stockholm is incredibly beautiful," he says. "They do a great job of balancing modern design with older architectural styles. I'm also in awe of how quick and easy it is to get around – by foot, by bus or on the tunnelbana (subway). I can get across the entire city in 20 minutes."
Cativo was also attracted by the potential for a relatively quick path to citizenship, which you can apply after five years in Sweden. "I believe that long-term I'll have a better life here," he says. "For myself and my future children."