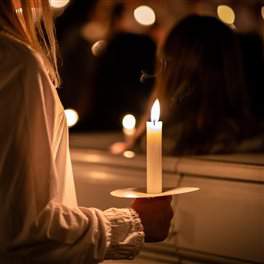 Lucia at Oscar's Church
Categories :
Music • Christmas & New Year's Eve • Family
Over the course of several days in December, Oscar's Church hosts Lucia celebrations featuring all its children and youth choirs. Admission is free for the youngest children's performances. For the other concerts, tickets can be purchased in the link below.
All dates
10 Dec — 13 Dec 2023
| Date | Time |
| --- | --- |
| 10 December | 16:00 – 17:00 |
| 13 December | 19:00 – 20:00 |
| 13 December | 21:00 – 22:00 |
Oscarskyrkan / St. Oscar's Church
Oscarskyrkan
Narvavägen
Stockholm
Sweden